RFP for Consulting Services: Anti-racism, Anti-oppression (ARAO)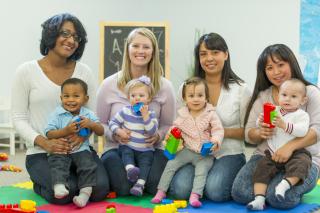 Request for Proposals for Consulting Services
Date of Issue: January 21, 2022
Introduction
Maryland Family Network (MFN) is accepting proposals for a one-year consulting services contract to provide training, facilitation, and coaching services in support of the organization's anti-racism, anti-oppression (ARAO) initiatives. Though we are seeking an initial one-year contract, we understand the complexity and scope of ARAO work and are prepared for a multi-year consulting engagement.
Background of Maryland Family Network
Based in Baltimore, MFN is a statewide 501(c)3 nonprofit organization that partners with community-based organizations to develop and sustain programs that support very young children, their families, and the state's professional child care community. As part of our service to underrepresented communities, MFN commits to anti- oppressive and anti-racist practices, including centering marginalized voices and actively working to create a more equal world.
Selection Process
The purpose of this RFP is to provide a fair evaluation of all candidates and to provide the candidates with specific information about the services we are seeking. The competitive selection process provided under this RFP will focus on the consultant's qualifications, history of performance on similar projects, and ability to coach and guide MFN through its ARAO journey. Thoughtful responses to this RFP will help MFN to select the most qualified proposer.
Selection Schedule
RFP Released……………………………………………………………………………January 21, 2022
Deadline to submit questions (via email)………………………………….January 28, 2022
Responses to Questions (via email)………………………………………….February 1, 2022
Proposals Due…………………………………………………………………………..February 15, 2022
Proposal Review……………………………………………………………………….February 15-22, 2022
Notice of Selection……………………………………………………………………February 22, 2022
Complete contract negotiation and Contract Execution……………March 4, 2022
Services to be Performed (Note: A proposal may address or more of the services below.)
Training Development & Delivery
Support a plan to train MFN's employees (approx. 55 staff) with the purpose of developing shared learning and language, including the development and facilitation of a multi-session ARAO training that introduces ARAO concepts and serves as a foundational training.
Meeting Facilitation
Attend and facilitate meetings of MFN's Diversity Committee and provide coaching to its members, as needed. This coaching should help committee members develop the skills they need to serve as ambassadors of MFN's ARAO initiatives to other staff. These meetings occur monthly and are typically 90-minutes in length.
Support MFN leadership by meeting routinely to assist in the preparation for monthly Diversity Committee meetings. Leadership also seeks to be able to ask the consultant to review relevant documents in advance of Diversity Committee meetings.
Provide structured formal coaching opportunities to MFN leadership that help develop and advance the organization's ARAO initiatives.
Planning & Oversight
Support MFN leadership in the planning and development of the next phases of its ARAO initiative, including some project management responsibilities.
Identify training and self-exploration opportunities for more MFN staff.
Support MFN leadership in engaging our board of directors in this ARAO journey.
Plan and facilitate quarterly meetings with MFN's Executive Leadership Team to discuss and assess progress.
Submission, Questions, and Contact Information
Responses to this RFP should be submitted to Laura Weeldreyer, Executive Director, by the stated deadline via email at lweeldreyer@marylandfamilynetwork.org. Questions about this RFP and more specifics about MFN's project goals should also be directed to Laura Weeldreyer.
Other key management personnel involved in this work are listed below.
Warren Jones, Chief of Staff – wjones@marylandfamilynetwork.org (project lead)
Shandy Destin, Human Resources Director – sdestin@marylandfamilynetwork.org