Coppin State EHS: James Beverly
James Beverly is a single dad raising his daughter Ruth. The Early Head Start Center at Coppin State University has helped to keep his family strong and prepare Ruth for her amazing future.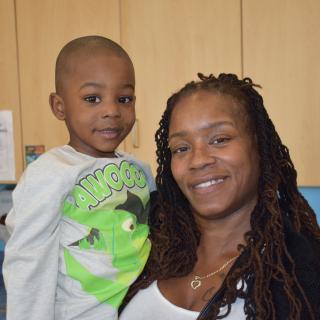 Crystal Jenkins
My name is Crystal Jenkins and I am a mother of three children. My youngest is three-year-old Jon Dylan. Together we attend Southeast Baltimore Early Head Start. This is one of Maryland Family Network's 25 family support centers.
The first day my son and I walked into the Center was the beginning of a new journey in our lives. I have seen huge changes in Jon Dylan since we started coming to the Center. His speech, motor skills, and communication abilities have improved. He has learned to share and play with other children. He even pulls out the chairs when the little girls in his class sit down for lunch. What a gentleman!
I have changed a lot too. Before I started attending the Center, I could barely read or do fractions. But just a year and a half later and I was a winner in the Maryland Family Network essay contest! I have enrolled in several classes at the Center, including Job Readiness and CPR. These classes have taught me leadership and communication skills. Now I'm able to speak and present in front of a group of people – like you!
I was also elected as the president of the Policy Committee. This gives me an opportunity to make changes for other families and to help other children succeed. My hope is to eventually get a job where I am able to help others.
But my biggest accomplishment was earning my GED.
I love being a part of Southeast Baltimore Early Head Start. Jon Dylan and I both look forward to Mondays and Wednesdays.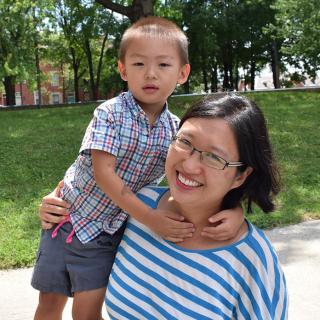 Yoon Kim, Southeast Early Head Start Center
One February day while exploring her neighborhood, Yoon Kim stumbled upon Maryland Family Network's Southeast Baltimore Early Head Start Center sponsored by the Kennedy Krieger Family Center. She knew right away it was perfect place for her young son, Noah.
"I remember that cold day turned out to be a warm day thanks to the staff's kindness." Yoon recalls. "They explained in detail about the center and assisted me in applying to the program."
Since that day both Yoon and Noah have grown significantly, thanks to the support and education that they receive at Southeast Baltimore Early Head Start, which serves women and their children, beginning during pregnancy and up to age three.
"I love to come to the center. All my stress goes away once I enter the building," Yoon says. "I truly believe my son receives the best care possible and a solid early education."
Noah has opportunities to play with several other children in a stimulating and age appropriate child care environment. At the same time, Yoon takes parent education classes, GED preparation, and learns to make nutritious meals on a budget. The parents and children take group field trips to the zoo, farms, and Science Center. Though English is Yoon's second language, she recently enrolled in a Spanish class at the center.
"I really enjoy all of the educational and valuable resources provided in the classes," Yoon says. "My English and parenting skills have improved and I'm enjoying my kids even more."
Yoon believes the professional and devoted staff are at the heart of the center's success.
"I really appreciate everything we receive from this wonderful program. They treat us as if we are their family members," she says. "To me they are angels."
Parent involvement is a significant factor in what makes Maryland Family Network's 26 Family Support Centers a success. Yoon has been serving on the center's Policy Committee and completed the Parent Leadership Institute. Both of these experiences help build skills and increase self-confidence so parents are ready to take on active, effective leadership roles in the center and in the community.
Yoon says support from the center has helped her in many ways. "I want to raise my kids to be responsible and to contribute to our society the way Southeast Early Head Start did for me," Yoon says. "I truly believe Early Head Start programs are the best programs for babies, children and parents. I have lots of unforgettable precious memories that I will cherish forever."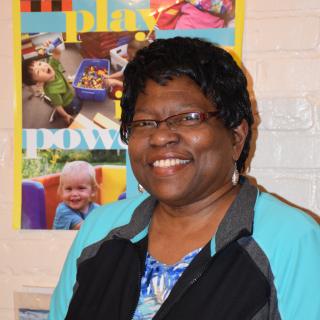 Marsha Williams
Marsha Williams is the director of In Arms Reach Home Day Care in Baltimore.
"It's great to watch children grow from one developmental level to the next," says Marsha. "I enjoy being a family child care provider because with no more than eight children, I am able to give more individualized attention on a daily basis."
Maryland Family Network provides technical assistance and training to child care professionals every day via 12 centers throughout the State that work to improve the quality and expand the supply of child care in Maryland. Marsha is committed to continuing to learn and provide the families she serves with the highest quality care possible.
"The Baltimore City Child Care Resource Center has encouraged me and supported my efforts in learning to care for infants and toddlers and has helped me to continually see the importance of being open to observe, review, and revisit every aspect of my program and to make any necessary changes," Marsha says.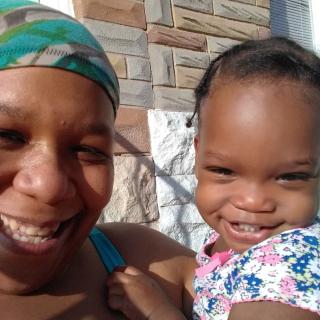 Lakeysha Rapheal
"Are there any services that I need, including free child care," Lakeysha Rapheal remembers being asked." Her answer? "Absolutely!"
Lakeysha's baby, Minnie, was just a few hours old when a hospital worker asked that important question. And that's how she learned about Maryland Family Network's Baltimore City Health Department Early Head Start Center.
An appointment for a home visiting consultation was made, and within a week a Family Advocate was at Lakeysha's home. It's been over a year, and once a week for an hour and a half, the Family Advocate works with Minnie on age appropriate skills. For example, right now she's learning words, colors, numbers, and drawing shapes. Minnie also practices following one and two step directions from her parents such as, "Please get the doll and put her on the shelf." All are skills Minnie needs to learn now so she will be ready for kindergarten in a few short years. After observing the Family Advocate and Minnie together, Lakeysha and her daughter practice the skills.
"I absolutely love it," says Lakeysha, who also has an 11-year-old. "It's been ten years since I've interacted with an infant." The visits, she says, "Have made things a lot easier, and brought my anxiety level down by a whole bunch!"
Lakeysha's life has changed in the last 10 years. More than a decade ago, she and her eldest daughter, Mieysha, were homeless and lived in a shelter for almost a year.
"It was hard work," she says. "I was also holding a job down, keeping a safe place for us, and eventually progressing to give stability to our little family." But in the shelter Lakeysha learned how to invest time in her daughter, spending time bonding with Mieysha.
That hard work paid off. Lakeysha was able to move from the shelter to transitional housing and then to a rented apartment. By Mieysha's fifth birthday, the family was living in their first house. Lakeysha is a leader now and an example for other women who are working towards a better life.
Twice a month she and Minnie come to the Center to be with the other families. The children have a chance to play and socialize with other kids while parents share ideas and learn from each other. Lakeysha was voted by the other parents to chair the Center's Policy Committee, which provides direct input on how best to serve and reach the community they live in. She says it's one of the greatest experiences of her life.
"The Family Support Centers promote togetherness and family bonding," Lakeysha says. "You feel the joy that your child gives you. Cherish it. Make it grow. That's what Maryland Family Network Family Support Centers offer."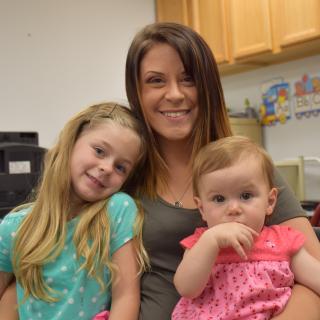 Alena Vanscoy From Rising Sun
Alena Vanscoy from Rising Sun knows that being a mother it's a tough job being a mother. But with a little help, she knew she could do it.
Alena first attended the Family Education Center, one of Maryland Family Network's 26 Family Support Centers, when her oldest daughter, Kaylee, was born.
"I started coming to GED classes two or three times a week. Within three months of coming here, I got my GED," Alena says. "It happened quicker than I thought it was going to."
Six years later, Alena is back for support with her second daughter, Gianna, who just turned 1. Alena believes that, thanks to all she learned at the Family Support Center, she is a better parent the second time around.
When Kaylee was born, Alena was 16 years old. "I was a naïve teenager who really didn't know a lot about herself," she says. The Family Support Center offered classes that helped her handle challenging situations. "Now I have a lot more patience and I know how to react."
Since earning her GED, Alena has gone on to graduate from the Paul Mitchell School for Cosmetology.
"The Family Support Center has been so much a part of my journey," Alena adds. "I feel like without this place, I wouldn't be where I am today."
With the help of Maryland Family Network's Family Support Centers, more than 3,000 adults like Alena finish their educations, learn job readiness skills, build solid social networks, and improve their parenting skills each year. And while they're at it their very young children can accompany them to the Family Support Center. There, children are cared for in a state-of-the-art setting that ensures they reach their developmental milestones: social, emotional, intellectual, and physical.
Your gift makes it possible for parents like Alena to take this journey. Make a donation today so every parent and child can have what they need to succeed.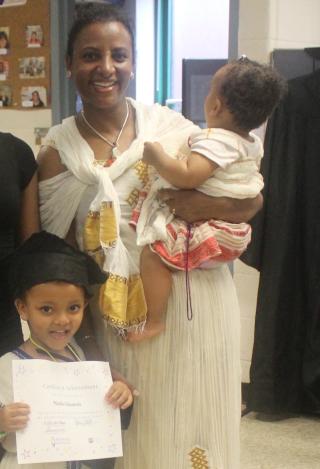 A Home Away From Home
Saba Asres attends Adelphi/Langley Park Family Support Center along with her children, four-year-old Solomon and one-year-old Naomi. Originally from the north African country of Eritrea, Saba attends classes at the center to learn English, math, and computer skills. At the same time, her oldest child is enrolled in the Head Start program and the youngest attends child care at the center.
"I can see a brighter future for all of us," beams Saba.
She says the center has become like a second home for them.
"We also get to go to many places where we can learn about the culture and ways of life here in the United States," Saba says. "My children get to see places and do things that I could not afford to take them to."
At the center, Saba also receives information about health, education, and interviewing for jobs. She hopes to receive her External Diploma soon.
"I'm very thankful to have this opportunity," Saba says. "For me and my family it is a gift that I am learning to use wisely, and starting a new journey for a better life."
As part of the program, Saba attended Maryland Family Network's Parent Leadership Conference in March. This annual event strengthens parents' leadership abilities and increases their confidence, encouraging them to be advocates for their family and community.
"I learned that I am a leader, a confident woman, and a role model to my family," Saba says.