11th Annual Sandra J. Skolnik Lecture on Early Childhood Education & Advocacy with Dr. Dipesh Navsaria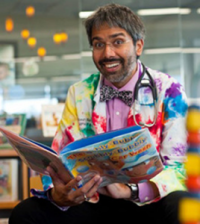 With graduate degrees in public health, children's librarianship, physician assistant studies, and medicine, Dr. Navsaria brings a unique combination of interests and experience together. He has practiced primary-care pediatrics in a variety of settings with a special emphasis on working with underserved populations. He is involved in advocacy training for residents, medical students, and practicing physicians. Dr. Navsaria is strongly engaged with early literacy programs in health care settings, particularly around ideas of early brain and child development, which include neurobiological effects of adversity and poverty upon the developing brain. He is a dynamic speaker who easily translates basic science and clinical medicine for a wide variety of audiences in order to shape programs and policy. Learn more at navsaria.com.
This event is free and open to the public. Attendees are eligible for 1.5 Continued Training hours. 
The Sandra J. Skolnik Lecture is made possible by generous support from: PNC Bank, Legg Mason, M and T Bank, and Child Care Foundation, Inc.