Just Published: First of Its Kind Equity Report Examining Early Childhood Access & Care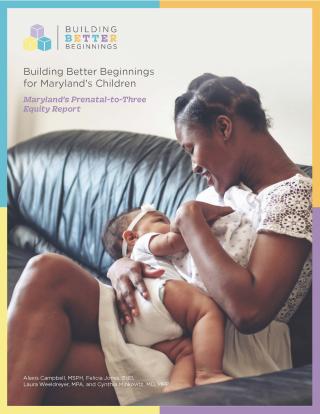 Building Better Beginnings (B3), a collaborative effort to leverage the expertise and diverse perspectives of Maryland's early childhood experts, released a first of its kind report aimed at expanding high-quality services available for expectant families and families with children birth to age three, especially those who are living at or below 200% of the Federal Poverty Level. Building Better Beginnings for Maryland's Children: Maryland's Prenatal to Three Equity Report examines many factors of prenatal to three health, education, and well-being including prenatal care, home visiting, temporary assistance, child care, substance exposure, and others. 

Download the report here www.b3maryland.org/p3equity. 
A press conference announcing the release of the report was held today at 10:00 AM at the Homewood Early Learning Center, at Johns Hopkins University, managed by Downtown Baltimore Child Care, 200 Wyman Park Dr., Baltimore, MD 21211. Speakers included:  
Talib Horne, Director of the Annie E. Casey Foundation's Baltimore Civic Site

Cynthia Minkovitz, MD, Chair, Population, Family & Reproductive Health, Johns Hopkins Bloomberg School of Public Health, and senior author of the B3 Equity Report

Del. Jared Soloman, MD District 18

Laura Weeldreyer, Executive Director, Maryland Family Network

Annie Reyes, Director, Homewood Early Learning Center
Although the percentage of Maryland's children living below poverty is far below the national average, profound disparities exist. The state has a nearly three-fold difference in poverty by race. There is also a two-to-three-fold difference in infant mortality for Black (non-Hispanic) vs. Asian or Pacific Islander and White Infants. Less than half of children assessed in Maryland demonstrate kindergarten readiness across four learning domains, and no counties meet the long-term goal of more than 64% of children demonstrating readiness. Meanwhile quality child care remains out of reach for many families across out state. 
The B3 coalition hopes this report will build public awareness around childhood poverty and encourage diverse stakeholders including nonprofits, foundations, and businesses to work together toward solutions in the hopes of making Maryland not only a better place to live but also an attractive option for businesses to relocate and invest.