Maryland Senate President Bill Ferguson Honored for Work on Behalf of Young Children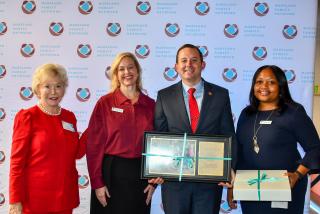 Maryland Family Network honored Maryland Senate President Bill Ferguson yesterday with the Dr. Nancy S. Grasmick Leadership Award in Early Care & Education. President Ferguson has championed the critical role that quality early care and learning will play in transforming public education in Maryland into a world-class system, and his leadership has ensured that new parents and all Marylanders will never be forced to choose between the jobs they need and the families they love. 
The award was presented at Teavolve in Baltimore. Speaking at the event were Dr. Nancy S. Grasmick, Laura Weeldreyer, Kesha-Simone Jones, Brooke Lierman, Maryland Comptroller Elect, and President Bill Ferguson.
Past recipients of the Grasmick Award have been Senator Barbara Mikulski, Congressman Steny Hoyer, Congressman Anthony Brown, State Delegates Sheila Hixson and Adrienne A. Jones, State Senators Nancy King and Richard Madaleno, Dep. Assistant Secretary for Early Childhood Development, U.S. Department of Health and Human Services, Linda Smith, and Dr. William E. "Brit" Kirwan, Chair, Commission on Innovation and Excellence in Education.