MFN Launches Program to Provide Free Support to Diverse Set of Child Care Providers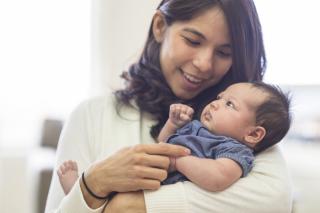 Maryland Family Network has announced the launch of "Maryland Child Care Boost," a pilot program that will equip select family child care providers with free tools to help them remain fully enrolled, financially sound, and focused on the high-quality care and education of our youngest learners. This announcement comes just after the release of results from a state-wide survey of child care providers reporting lower enrollment and increased costs due to COVID-19. 
The 18-month program, which is expected to expand over time, will initially serve 60 child care providers across Baltimore, Prince George's, and Montgomery counties. The first cohort of providers, who collectively have capacity to serve nearly 500 children, was chosen as part of a competitive application process. Maryland Family Network received 185 applications for the 60 spots. The resources provided by MD Child Care Boost are available in both English and Spanish. This is especially beneficial to providers for whom English is not their first language to be competitive both in their business models and academically in their programs.
"Child care is the backbone of the economy," said Laura Weeldryer, executive director of Maryland Family Network. "In order to truly recover from the ongoing pandemic, we must do everything in our power to ensure that every child —no matter their zip code — has equitable access to quality care. Making sure child care providers have the tools and resources they need to be successful is a huge step in bringing that equity to every community.
Providers who participate in the Maryland Child Care Boost program will have free access to Wonderschool, an innovative online platform that connects families to a diverse set of child care options and supports the providers. Through Wonderschool, providers will be able to create websites, promote their programs in the platform's marketplace, manage enrollment, schedule events and tours, record business activities and expenses, contact prospective and current families, and access data to gain insights. They will also be able to tap new supports like financial assistance and discounted tax preparation services. 
A recent report, "Caring in a Time of Pandemic: Will Maryland's Child Care Survive COVID-19?," shows providers across the state are facing the dual challenge of dramatically lower enrollment and significantly higher expenses as a result of the pandemic. 
Providers reported their monthly expenses have increased by an average of $5,339 per location as a result of new health and safety expenses, like personal protective equipment. At the same time, 79 percent of providers say they've experienced a financial loss due to dwindling enrolment, up from 67 percent in April 2020. The providers who participated in the survey—over 2,000 around the state, including providers from every county—report they are hovering at 59 percent of their licensed enrolment capacity, which is unsustainable. Finally, nearly half of child care providers in Maryland say they may close for good if help doesn't arrive soon. 
 
About Wonderschool
Wonderschool is building the largest network of high-quality early education programs. Wonderschool offers a diversity of options and combines engaged teachers and thoughtful education with the warmth of a family program while maintaining standards that go above and beyond state requirements. By providing dedicated support, technology, training, mentorship, and community, Wonderschool lets teachers focus on what they do best— teaching—and allows them to earn a sustainable living in the field they love. Named one of Fast Company's Most Innovative Companies in Education in 2019, Wonderschool is based in San Francisco and venture-backed by Andreessen Horowitz, First Round, Omidyar, Unusual Ventures, and Gary Community Investments, among others. Learn more at wonderschool.com.