MFN Statement on Reopening Child Care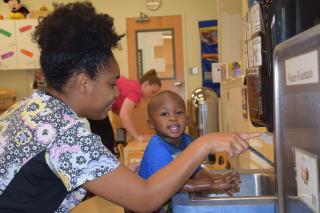 As Maryland's workplaces, and some child care programs, gradually re-open, parents and child care providers are facing not only challenging times but difficult choices. As always, and especially now, parents are concerned about the health, safety, and education of their children. As always, and especially now, child care providers worry about those very same things—in addition to their ability to sustain their livelihoods while continuing to play their indispensable role in our economy and our society.
Maryland Family Network has long advocated for safe, high-quality early learning environments. Current safety recommendations from doctors, public health experts, researchers, and others regarding child care call for limitations on group sizes, carefully observed cleaning procedures, and an array of other protocols, all of which raise serious questions about the ability of child care programs to operate with existing resources. 
MFN recognizes the need for safety protocols in child care, even though they may restrict capacity and pose other challenges for a period of time. At the same time, we strongly support efforts to provide financial relief and other resources for all child care providers. Providers' concerns are real and have far-reaching implications. Recent polling underscores the fact that the survival of many child care programs is at stake. We need to protect both children's health and the sustainability of child care.
As policymakers use public health recommendations to inform their decisions about reopening, and as pandemic-related health considerations evolve over time, child care providers must have a seat at the table. These professionals know how the recommendations will play out in the real world through years of experience and their own research in the child care field.
Without the safe, high-quality child care that parents need in order to return to work, our economy will not recover. Many children will lack the critical benefits of quality early education; others will suffer when their parents are forced to choose unsafe care options. Maryland policymakers need to address this looming crisis.
At the same time, we must recognize that even before the pandemic, early care and education opportunities were unequal, unaffordable, and inaccessible for too many families. Child care programs struggled with low wages, high costs, and the financial burdens of providing an essential public good in an erratic private market. Returning to "normal" is not our goal—building better child care for children, families, and providers is.